Art Toolkit Design Update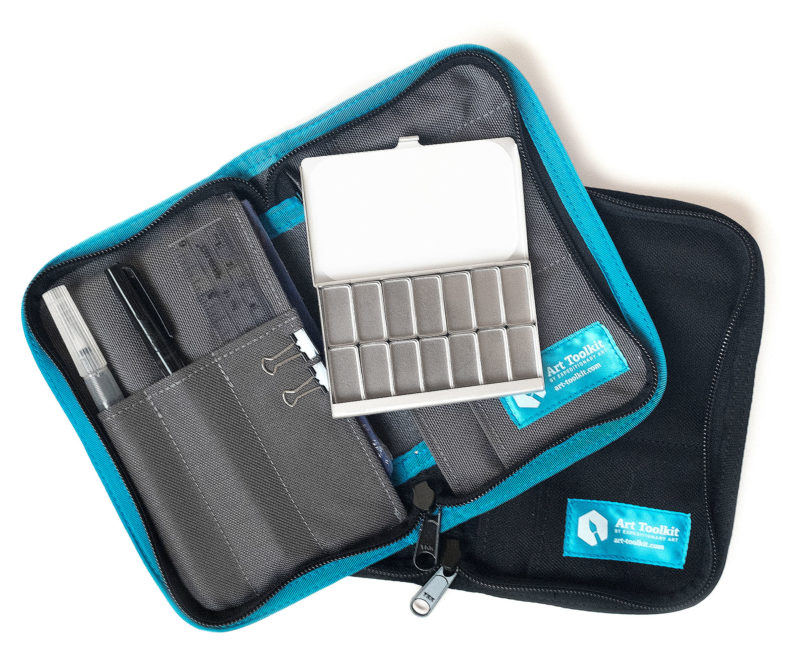 Nov. 2017 Update: I am now stocking all Art Toolkits with Moleskine watercolor sketchbooks. 
I've been working with a wonderful new sewing shop in Seattle over the past year to update the designs of my Toolkits. First, I have new colors! My large Art Toolkit is available in a new grey with bright turquoise trim (it reminds me of blue ice), and the Pocket version in classic black, grey with blue trim, and grey with black trim. Visit my Shop to check them out! I am open to more colors in the future, let me know if you have any suggestions.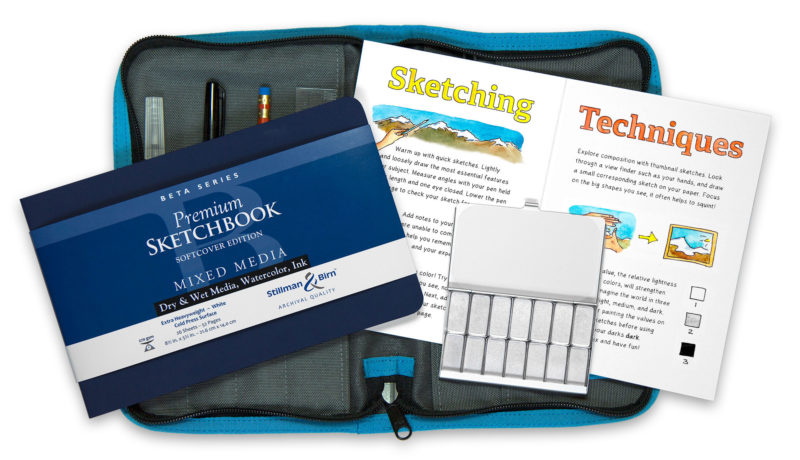 Over the years, many of you have requested a large Toolkit that can accommodate an 8.5″ x 5.5″ (21.6cm x 14.0cm) sketchbook. Here it is! This new version is slightly larger than my original (about 6.5″ x 10″ when closed) and includes a large Stillman & Birn Beta landscape softcover sketchbook. In addition, I am including the same essential tools (waterbrush, pen, pencil, ruler, binder clips), a field sketching tips insert, and adding a mister and refill syringe to make this kit more comprehensive. I am discontinuing the binder version of my Toolkit. If you would still like one, please email me as I still have a few available. I hope you like these updates! As always, I welcome feedback and suggestions. I am passionate about improving the Art Toolkit to create the most portable and versatile field sketching kit possible.
Learn more about how I developed the Pocket Art Toolkit and see examples of the Art toolkit tools in action on my blog.