The Demi Essentials Palette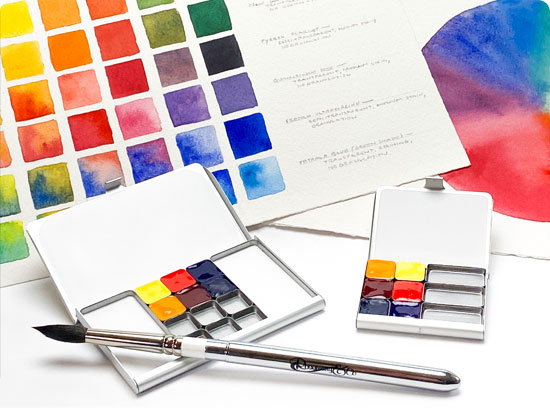 I introduced the Essential Colors Pocket Palette a little over a year ago, and it has become one of my most popular paint-filled palettes. Now I'm pleased to announce the new Demi Essentials Palette, which includes the same six colors, in a more compact size. The set includes the vibrant colors Hansa Yellow Light, New Gamboge, Pyrrol Scarlet, Quinacridone Rose, French Ultramarine, and Phthalo Blue (Green Shade). See my blog post about mixing these colors and Daniel Smith's Essential Colors set.
The palette also includes three of my standard-size stainless steel watercolor pans, for adding custom colors are using as additional mixing surfaces. The Demi Essentials Palette is now available in my shop!