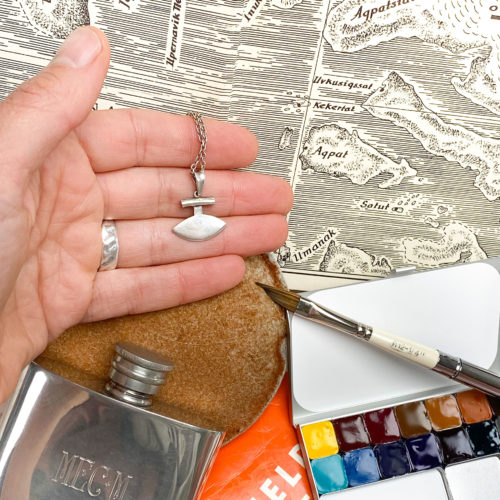 There's a quote I read years ago in the book Art and Fear by David Bayles that continues to strike a chord with me:
"Vision is ahead of execution, knowledge of tools is our contact with reality, and uncertainty is a virtue."
I consider these words in my painting practice, as well as throughout my life. Tools can empower us, inspire us, and become touchstones for who we are. My tools are invaluable to me, from my palettes, brushes, maps, notebooks, and flask (I use alcohol to lower the freezing temperature of my paints in cold regions, read more winter sketching tips here).
I also wear a small reminder that inspires me to push through daily uncertainties. This is my silver ulu necklace given to me by a friend of mine from Upernavik, Greenland, in 2005. The ulu is a traditional Inuit women's knife, a timeless, all-purpose tool. It reminds me to be brave in my painting endeavors, whether off in the arctic or approaching an empty sketchbook page.
What do you carry for inspiration to keep you going? A talisman, keepsake, or even a mantra?