New painting & free events
I've completed one of my largest watercolors yet! The painting above, Ice Edge, is 31″ x 58″ and depicts the pack ice of Baffin Bay, off the coast of West Greenland. I'm continuing to prepare for my Imaging the Arctic exhibit this fall in Seattle which will feature all new work. In the meantime, I'm also thrilled to announce a new version of my website! Huge thanks to my wonderful web developer husband Darin Reid. I've polished up my Projects which each include galleries from my new Portfolio. I also have a snazzy new shop focusing (for now) on the Art Toolkit, and for those of you who have asked, the extra large Pocket Palete mixing pan is now available. We have a lot of plans for the website, and I'd love to hear what you think of it.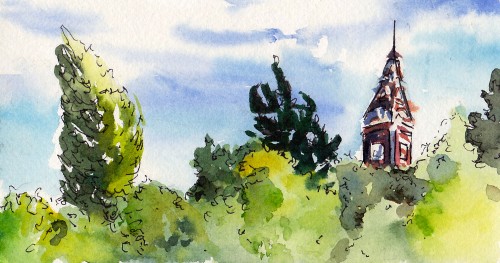 This next week I'm also partnering with Daniel Smith for three events. On Thursday, July 17th, I will be sketching with Daniel Smith during the Seattle Design Center art gallery open house, which is free and open to the public. On Saturday and Sunday, I am offering two free demos with Daniel Smith in Seattle and Bellevue. Join me to learn fundamental tools for travel and field sketching with ink and watercolor. I'll be sharing my favorite techniques for creating fast and expressive sketches. Saturday, July 19th in Seattle at 11am and 1pm, and Sunday, July 20th in Bellevue at 11am and 1pm. As long as I'm mentioning free events, here's one more I'm looking forward to next month. Join me 11am-1pm Saturday August 23 for Sketching the Urban Wild, a workshop at the Olympic Sculpture Park in partnership with the Seattle Art Museum. View my Events for more details and have a great weekend!