Imaging the Arctic Exhibition
December 12, 2014–February 22, 2015 at the Nordic Heritage Museum in Seattle.
I'm thrilled to announce plans for an Imaging the Arctic exhibition at the Nordic Heritage Museum in Seattle! The exhibit will be a culmination of my work with marine mammal biologist Dr. Kristin Laidre and will also include evocative photographs from Greenland by Finnish artist Tina Itkonen. The show opens December 12 and runs through February 22, 2014. I'll be sharing details for the reception and additional events in the coming months. My focus now is preparing exhibit materials (such as signs and a catalog) and finishing paintings in my studio. Here's another field painting I recently completed of Kullorsuaq, a stunning settlement of approximately 430 people located at 74 degrees N on the NW coast of Greenland.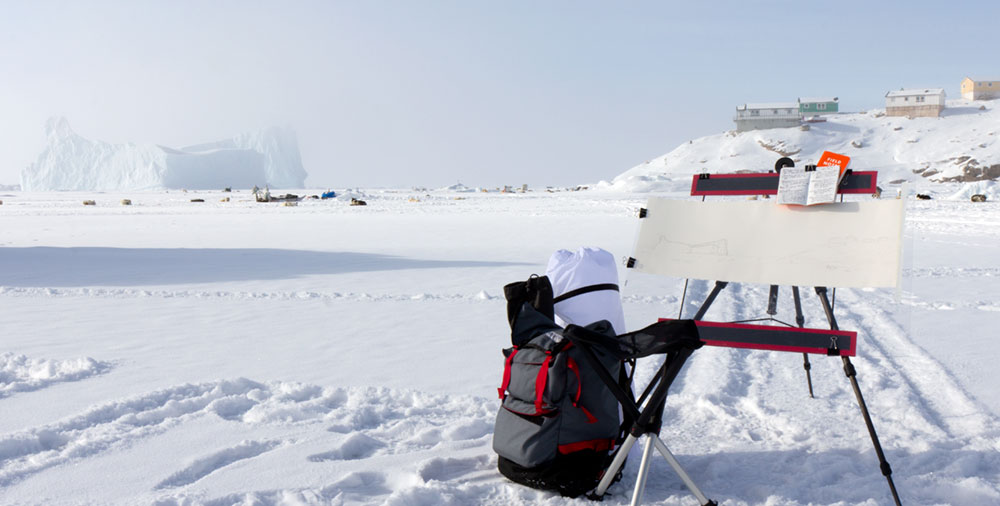 I want to give a shout out here to Field Notes, the makers of my favorite pocket notebooks that you can see clipped here to my tripod. I used up two of their "expedition" series in Greenland. The waterproof paper was bombproof, smooth to write on, and I loved how easily the bright orange cover could be spotted in the snow. The books are just 3.5″ x 5.5″ and slip easily into my Art Toolkit or pocket.