The Art Toolkit is now upgraded! Learn about the new version and visit the Shop to purchase.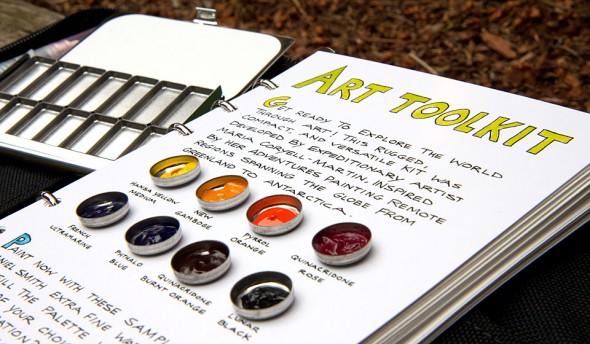 I'm delighted to announce that I have a new Art Toolkit available in my shop! Throughout my travels painting around the world, I've been constantly experimenting with materials and working to develop a compact, all-in-one, durable system for ink and watercolor sketching. The Art Toolkit is based on my current sketchbook and all of the materials are field tested to meet my own high standards for quality. Watch the video for a full tour!
The sketchbook/binder is my solution to having too many partially filled spiral-bound sketchbooks taking up room on my bookshelf. I much prefer to fill a binder with a mix of paper that I can easily re-arrange and archive when I'm home. The 5″ x 7″ standard sized pages of the kit also fit easily into frames or photo organization systems.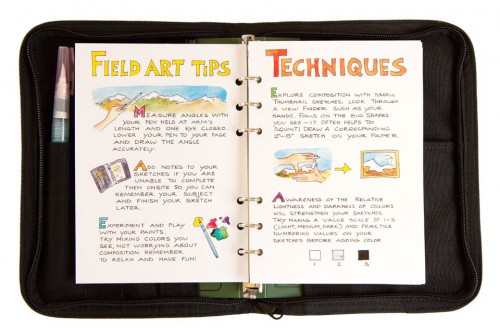 Art Toolkit components
Cordura zip cover, measures approx 6.5″ x 8.5″ when closed
6 ring binder that holds 5″ x 7″ paper
Niji waterbrush pen, Sharpie fine pen, pencil, ruler, and two binder clips
Inserts with 8 sample watercolor paints and field art techniques
Palette (approx 3.75″ x 2.24″) with 14 removable pans on a magnetic base
Reusable towel and two binder clips
10 pages of Arches 140lb bright white watercolor paper
10 pages of Lenox 100 vellum paper
Paper refills are available in my shop, or cut paper of your choice at home! The Franklin Covey compact hole punch is compatible with the binder.
I'm especially excited about the palette. Over the years, my pocket watercolor palettes have ranged from Altoids tins with clay mixing wells, to tins and small boxes with plastic half pans. My main complaint with them was that they were bulky and I couldn't fit everything in one kit. Here's an overview: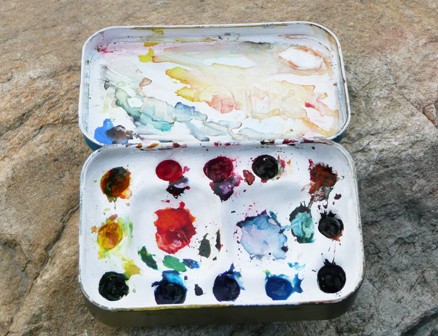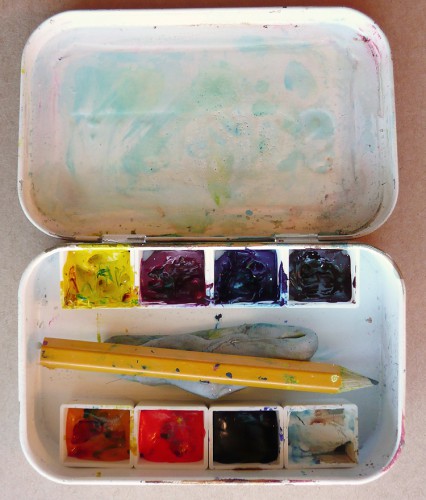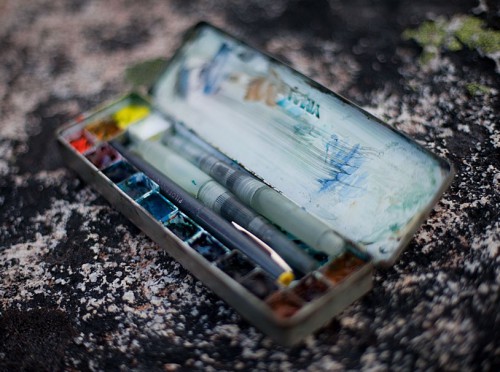 My new palette is a prototype of the one included with the Art Toolkit. The design is slim, compact, and fits nicely into the back pocket of the cordura kit cover. A fantastic feature of the palette is the magnetic base that strongly secures the 14 pans while also allowing them to be removed and rearranged. The empty pans can be filled with tube paints of your choice. Eight samples of my favorite Daniel Smith ExtraFine watercolors are included with the kit. After adding fresh paint to my pans, I typically let it dry overnight before using it: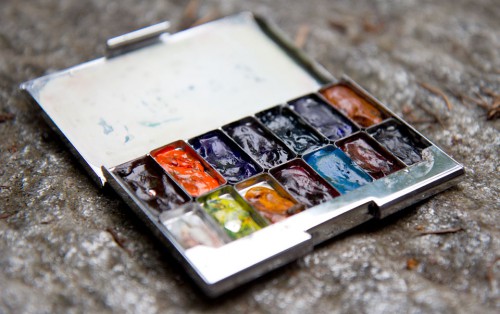 Here's my own Art Toolkit in use during a hike I took around Stehekin last month:
One more sketch from Stehekin, completed with supplies included in the Art Toolkit: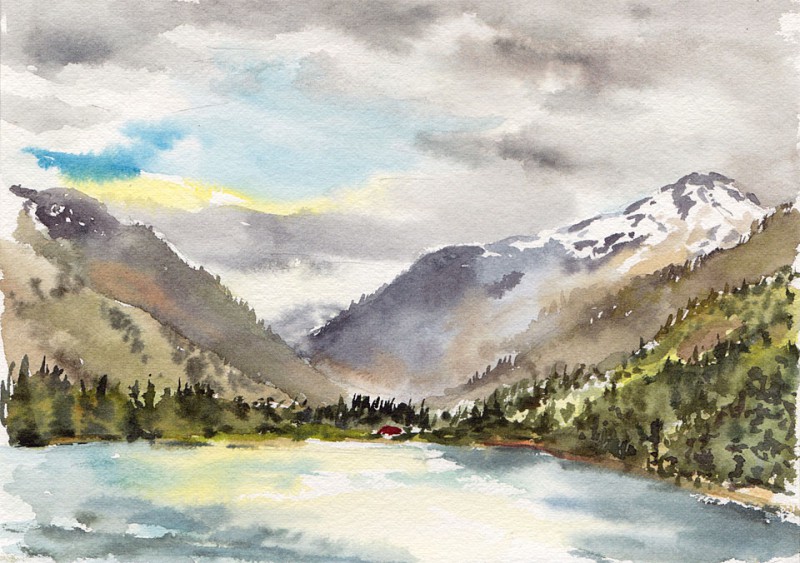 Feel free to contact me with any questions about the Art Toolkit, and happy sketching!