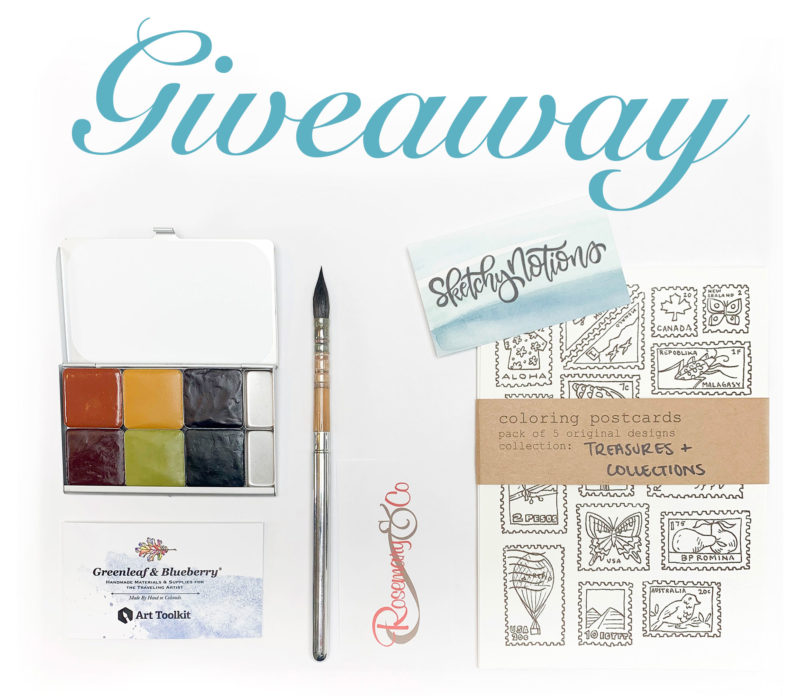 *Update: this giveaway is closed!*
I'm excited to announce a giveaway of some of my favorite tools! Entry details below, the giveaway is open worldwide and closes Sunday, October 27th, at midnight PST.
I've teamed up with my incredibly talented friends at Greenleaf & Blueberry, Chelsea Ward with Sketchy Notions, and the amazing Rosemary & Co to bring you a fabulous collection of watercolor sketching tools. Our set includes a Special Edition Greenleaf & Blueberry Pocket Palette filled with six exquisite handmade watercolors. As a perfect companion, we have a medium R9 squirrel mop travel brush from Rosemary & Co. Finally, start painting with an array of inspiring coloring postcards from Sketchy Notions.
Giveaway is open worldwide and will close: Sunday, October 27th, midnight PST.