I've been inspired by the landscape I recently visited in Alaska and am excited to incorporate it into my Arctic Tern "Migration" series. I spent the majority of my time in a peat bog with ornithologist Nate Senner studying Hudsonian Godwits (check out my entries from the field). Arctic Terns also nest in the region, and seeing them in Alaska was like seeing old friends—if your friends screech and dive bomb you. Today I began studies for a painting that I'm envisioning with a flock of Terns flying over the landscape. My color inspiration came from the following field sketch.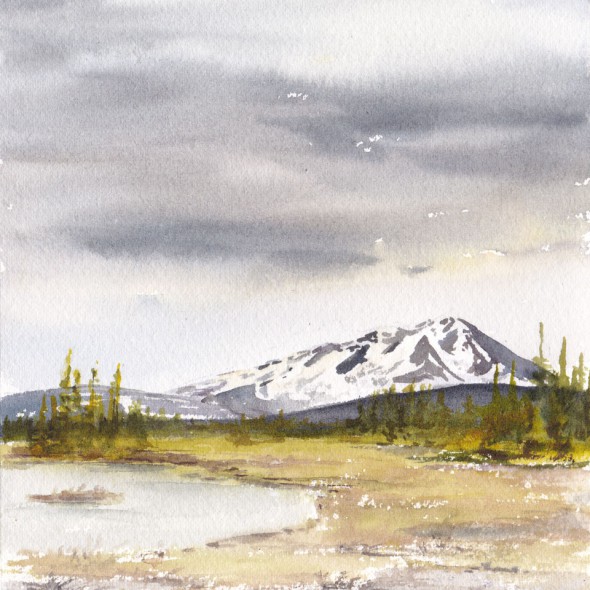 This photo is part of my composition reference. I prefer to work from black and white photos to see the values clearly (relative lights and darks) and not worry about color.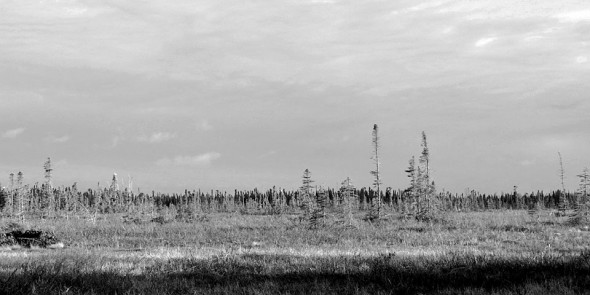 I explored color and decided on a limited palette of Nickel Azo Yellow, Lunar Earth, Prussian Blue, Indanthrone Blue, and Deep Scarlet (although I'm debating replacing it with Rose Madder Genuine), all made by Daniel Smith here in Seattle.

Finally I completed a 5″x5″ color study—I love exploring composition on a small scale! Next step is to sketch out the larger painting, I think 24″ x 12″. Stay tuned!