Field Sketches and New Tripod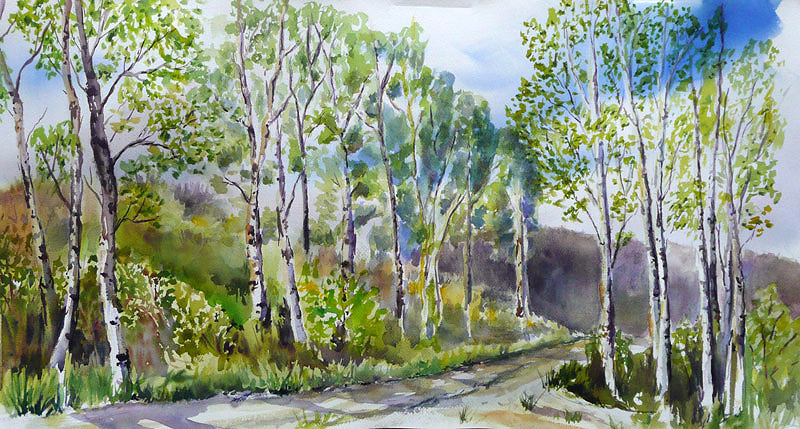 I've had great fun this past week getting outside to field sketch and to test out my new tripod. I'm able to paint my largest plein-air sketches yet with it- 15″ x 30″! I'm heading to Seattle this week and plan to pick up a larger drawing board that will support a full 22″ x 30″ watercolor sheet.
My new tripod is a Slik Sprint Mini II model with a few key versatile features. First, it has three leg lock positions, so the legs can be independently opened to different angles. Next, the center column is detachable and has a screw cap that I was able to modify to add a wire hoop (for hanging a water-bottle as a weight during windy days. Finally, the tripod is under two pounds! I love it.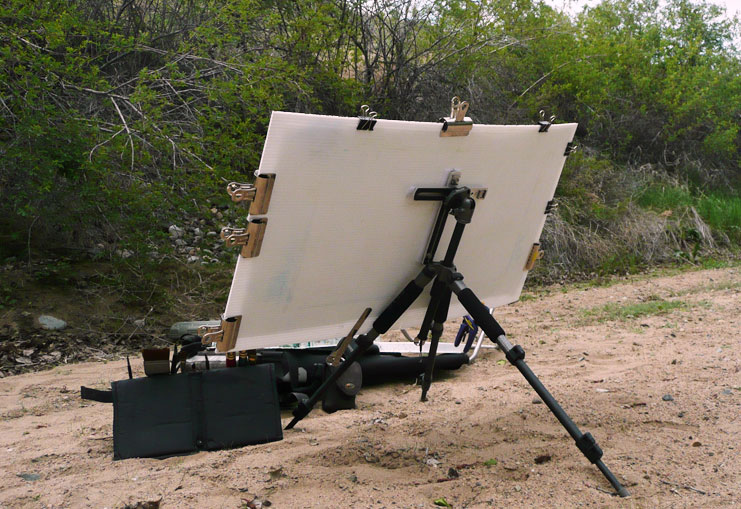 To attach my art boards to the tripod, I've modified two camera flash extenders I found at Glazers Camera Supply to form a "T" that secures to the tripod and which I've covered with velcro tape. My folding drawing boards have corresponding velco strips that hook onto the "T" support- the velco is surprisingly strong. I hope to soon rig up a support for my palette that clamps to my tripod leg or center column with this VersaMount.
The rest of the kit components include a folding brush holder, collapsable water container, palette, and a folding stool. So far my whole kit fits in my large Ortlieb Messenger backpack. Yesterday I took it to Washington Pass for some practice in the snow and am continuing to explore the Methow Valley as I hone my field kit in preparation for my trip to Greenland this summer.
Do you have any favorite field sketching tools?