Travel to the polar regions takes time and preparation. Before leaving to visit George Divoky on Cooper Island for my Witnessing Climate Change expedition, I prepared a set of Pocket Palettes with my favorite colors.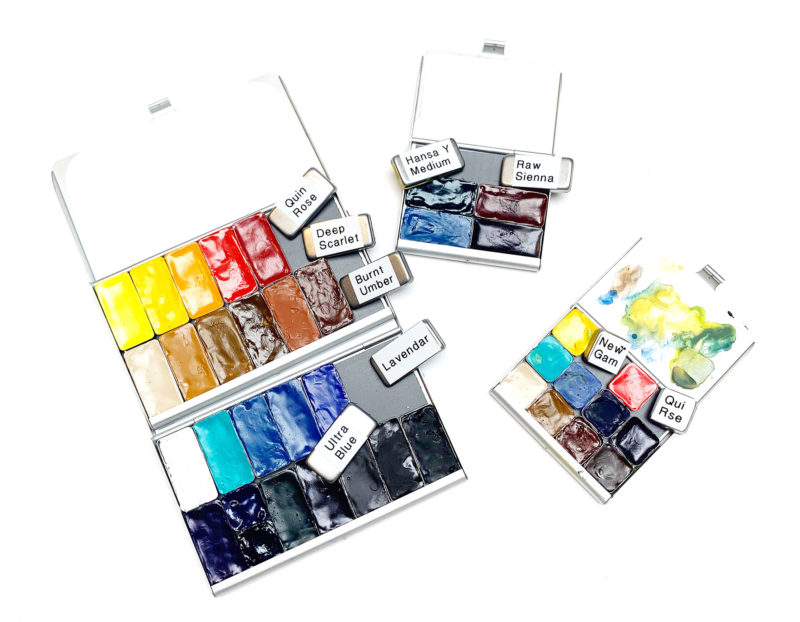 I carried a warm palette of 14 colors, a cool palette of 14 colors:
Warm Top Row: Hansa Yellow Light, Hansa Yellow Medium, Yellow Ochre, Cadmium Red Medium Hue, Quinacridone Coral, Quinacridone Rose, Deep Scarlet⁠
Warm Bottom Row: Buff Titanium, Raw Sienna, Monte Amiata Natural Sienna, Quinacridone Gold, Lunar Earth, Transparent Red Oxide, Burnt Umber⁠
Cool Top: White Gouache, Cobalt Teal Blue, Manganese Blue, Cerulean Blue, Cobalt Blue, Ultramarine Blue, Lavender⁠
Cool Bottom: Phthalo Blue (RS), Phthalo Blue (GS) & Phthalo Blue Green (BS) in mini pans, Undersea Green, Indanthrone Blue, Jane's Grey, Lunar Black, Hematite. ⁠
I also prepared a small Demi palette filled with a set of limited colors based on what I've previously used in polar regions and related studio work: Hansa Yellow Medium, Raw Sienna, Quinacridone Rose, Deep Scarlet, Cerulean Blue Chromium, and Indanthrone Blue (all Daniel Smith). Finally, I made an extra with bright colors just for fun which, (forehead smack!), I accidentally left at home!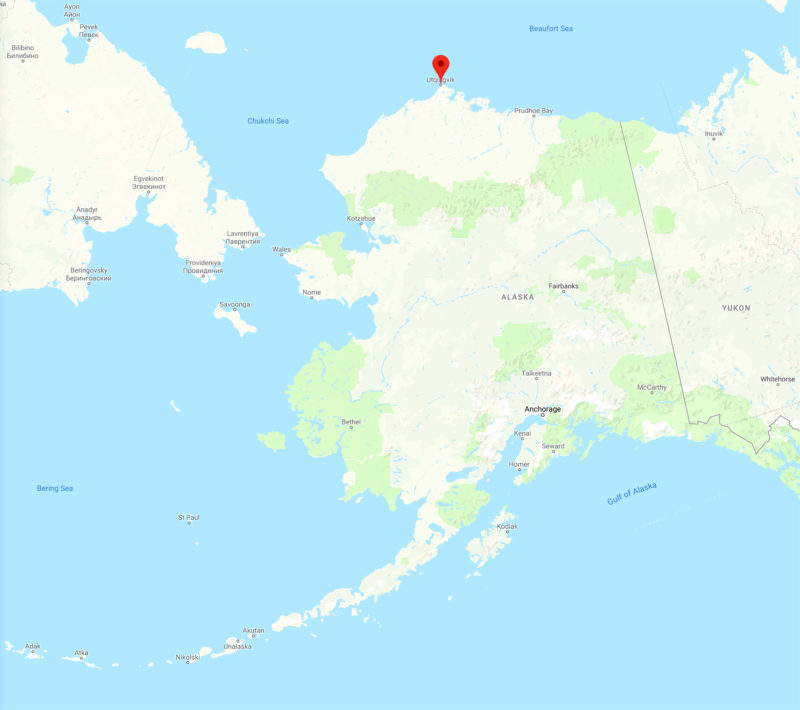 To reach Cooper Island, we first had to travel to Utqiagvik (formally Barrow), located on the North Slope of Alaska, at about 71° north. My travel companion, science educator Katie Morrison, and I headed to the airport bright and early and I was grateful for her good company. We were laden with our gear as well as additional supplies for camp at Cooper Island.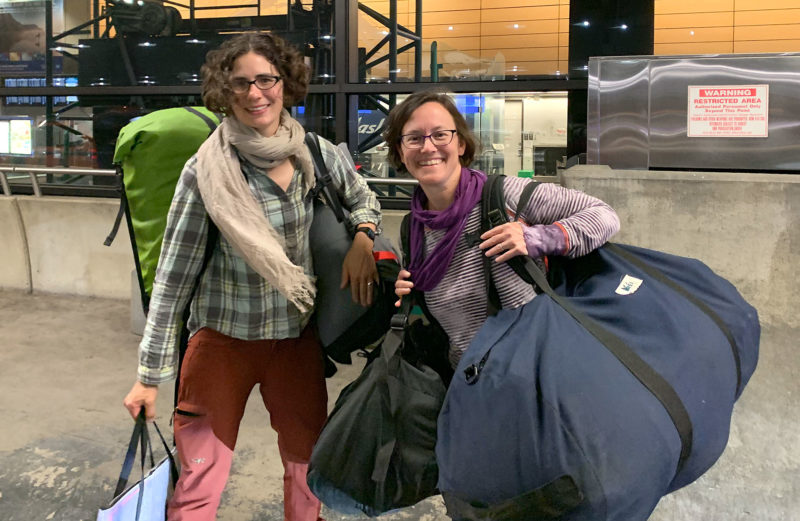 I enjoy sketching in airports and on planes. I worked quickly, creating small thumbnail sketches of the view out the window.

I explored the range of colors I could mix using my limited Demi Palette.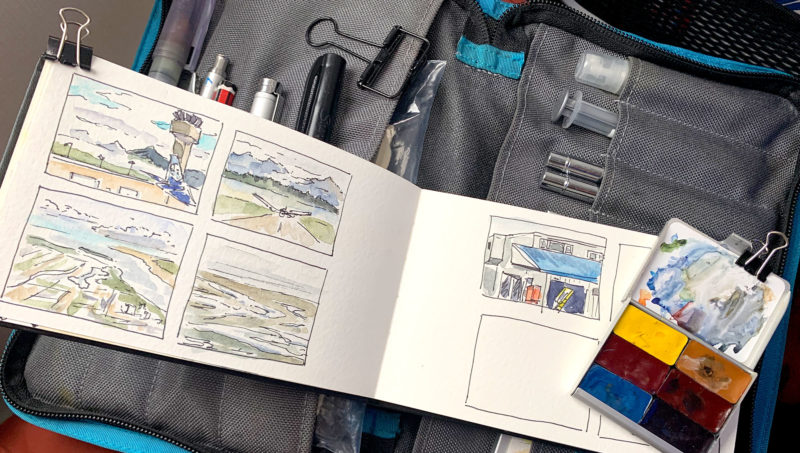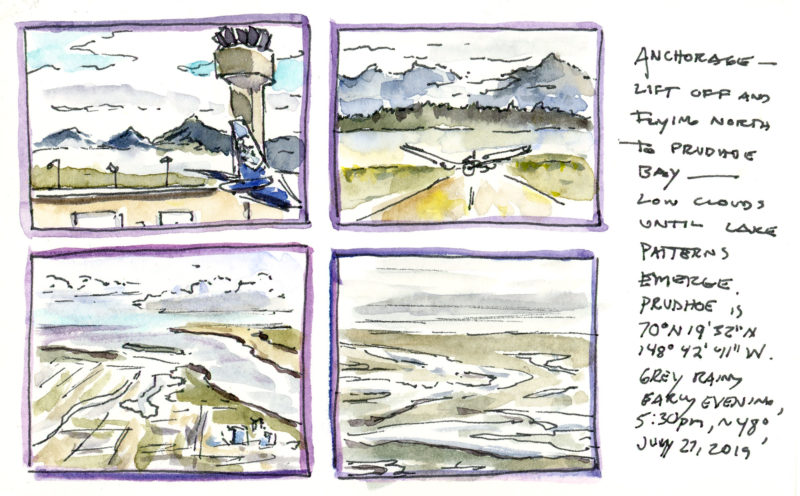 As we approached Prudhoe Bay for a brief stop before continuing on to Utqiagvik, I saw the unique patchwork landscape of "oriented thaw lakes" all aligned to the northwest. These egg-shaped lakes are some of fastest-growing lakes in the world as the permafrost melts, and their unique orientation and shape is due to the abrupt seasonal thaw of the permafrost.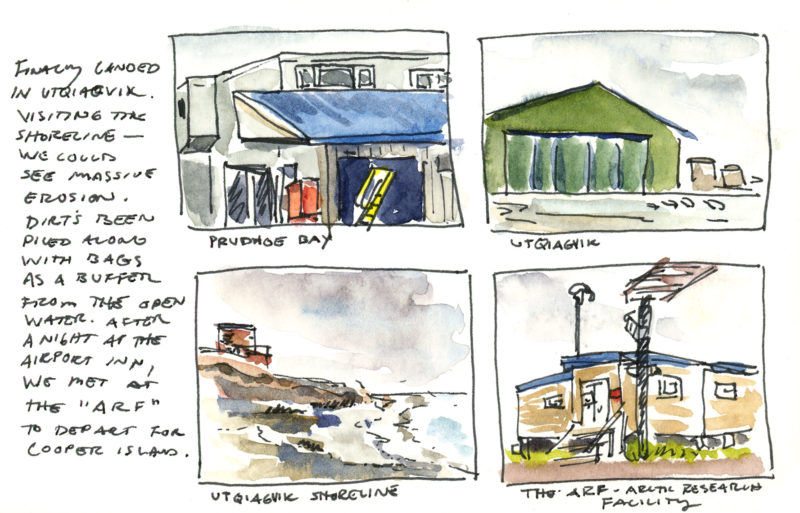 In Utqiagvik, coastal erosion is another highly visible impact from climate change. With less sea ice, the coastlines are exposed to heavier storm waves which rapidly erode the coastal bluffs, especially as the permafrost thaws.
Throughout this all is the stark beauty of the Arctic and the people whose lives are entwined with the region. Nearly 5,000 people live in Utqiagvik and roughly half are Iñupiat who maintain subsistence traditions of hunting marine mammals.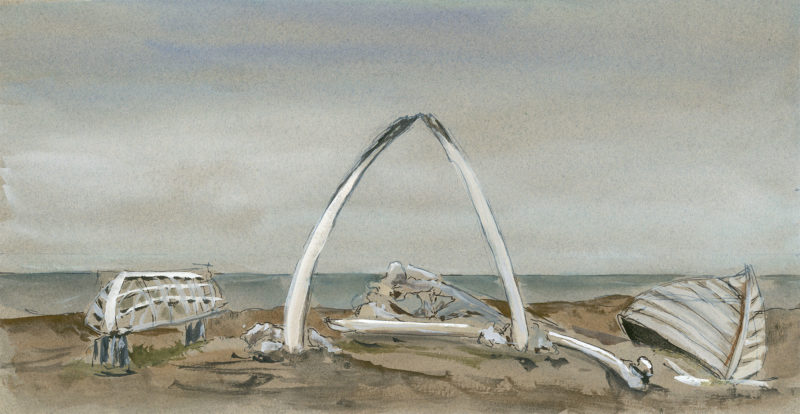 This arch made of bowhead whale jawbones represents Utqiagvik's connection to the sea and hunting. Sketching it, I looked out over the great expanse of blue water and missed the ice.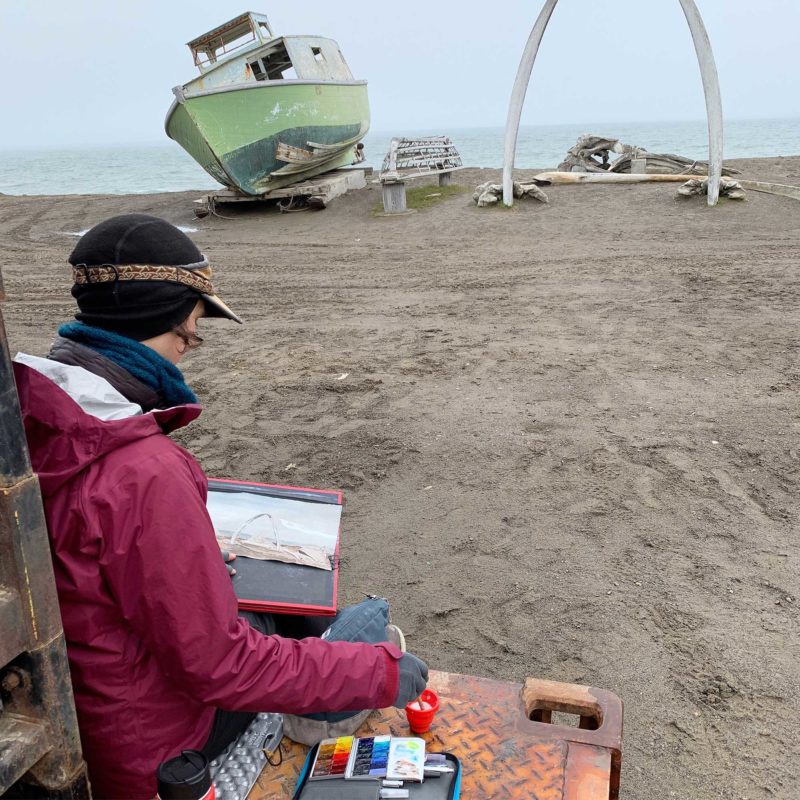 Though brief, I was thankful for our stay in Utqiagvik, and to see firsthand how the rapid recession of sea ice has a direct impact on this coastal community.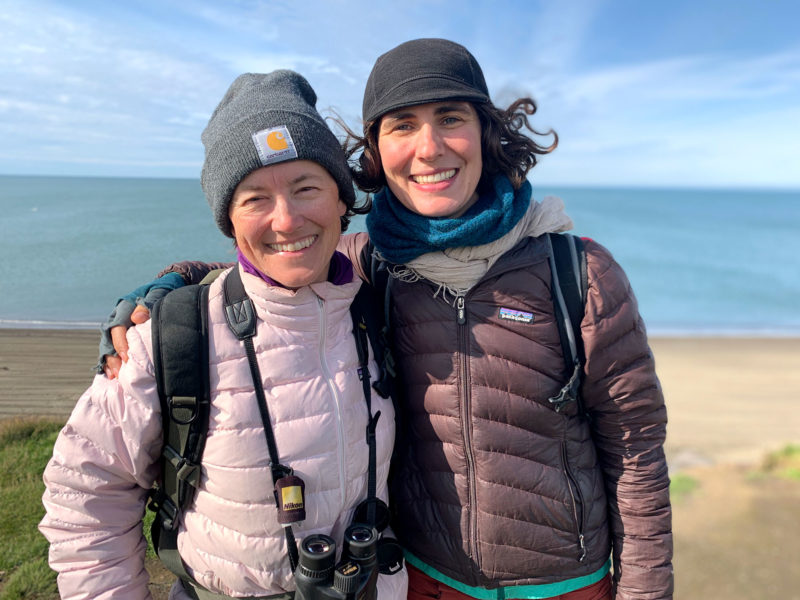 The next morning, Katie and I met at the ARF (Arctic Research Facility) to depart for Cooper Island. In my next post: First Impressions of Cooper Island.