I've had fun testing pencils this week for (drum roll, please) the Art Toolkit 2.0! I've been working on upgrades since the summer and am down to polishing the final details before releasing it at the end of the month. My qualifications for the Art Toolkit pencil are performance, an eraser tip, and quality manufacturing. For performance, I prefer sketching with an HB pencil that's not too soft and not too hard. I want the point to last as it makes smooth marks without damaging watercolor paper. An eraser-tip comes in handy in the field if I'm not carrying a separate one. Finally, I prefer sourcing materials from the USA.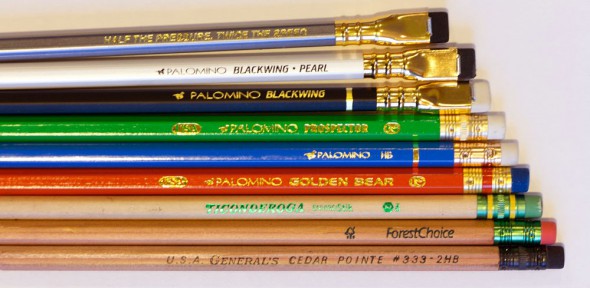 I considered the Blackwing series of Palomino pencils which I love (and I grew up using the original Blackwings from my mother so they hit a sentimental point), but they have a softer lead that I find better suited for writing than for sketching. Next I looked at HB natural finished wood varieties: the Ticonderoga, Forest Choice, and General's Cedar Point. I eliminated the first two after learning they're made in China and Korea. General's Cedar Point made an overall good impression, but felt a bit scratchy to me. This left me with three pencils by Palomino: their Original HB (cedar made in Japan), Golden Bear 2 (cedar made in the USA), and Prospector 2 (bass wood made in the USA). For all three, the lead felt smooth and I also liked their bright colors and feel in my hand. I'm partial towards cedar, and am leaning towards the spiffy orange Golden Bear (tipped with a blue eraser) for the Art Toolkit. If you have any favorite pencils, I'd love to hear about them!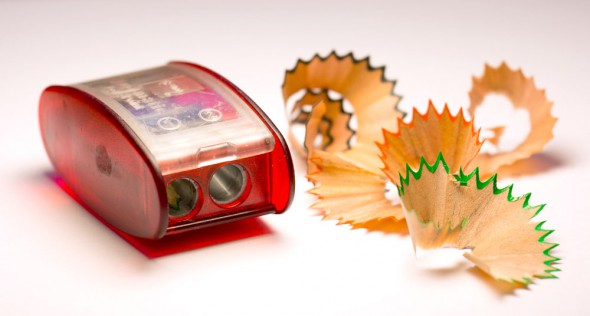 I've been using a Kum long point pencil sharpener in my studio for the past year. It features one hole for sharpening the pencil wood, and another for the lead. For the field, though, I typically tuck a small wedge sharpener in my Toolkit, or just use a knife. I've learned that others take pencil sharpening far more seriously, to the artisan level!