It's been a challenge to learn how to organize my work, but purchasing Bento from Filemaker last year was a big start to managing my portfolio, inventory, and address book. It's a super user friendly Mac program, and easily customized. I recently upgraded to Bento 3 and am pleased with the new features. Here's how I've chosen to use it.
My first step was deciding what information I needed to record in the forms. The screen shot below illustrates the form I built for my artwork.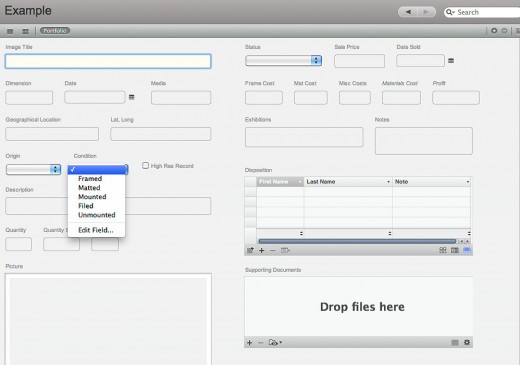 Bento allows me to make calculations between several of the fields, so I've included my stock (quantity – quantity sold), as well as adding up my materials cost and calculating my profit. I also can link to my customers in my address book and add supporting documents including invoices and scans of the images. Keep in mind that data fields are easy to create, customize, and move around. You can create whatever layout may best suit your needs.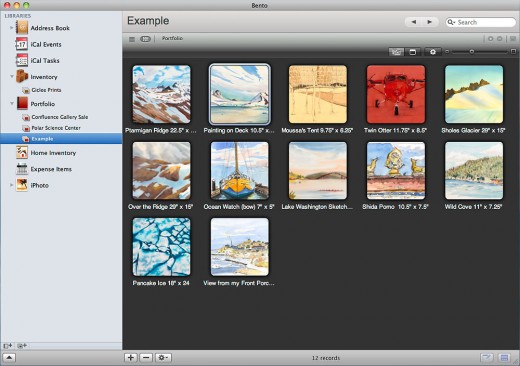 Bento 3 added the feature of thumbnail grid view, which as a visual person I love. I can easily scroll through my images. This search function also works well for finding items and there's an additional spread sheet view. The data can easily be exported to programs such as Numbers or Excel for backing up.
Here's my address book form. It's fairly basic, but note that it links to works purchased with room for additional notes for how I may have met someone. That's the overview! Let me know if you have any questions and I'd love to hear how you organize your businesss and inventory.
Ah, and for something a little different, here are some bird studies from the week (with a thank you to Dean Bandes and Kelsang Jorlam for the suggestions). Let me know if there's one you'd like to see!