I joined scientist Mauri Pelto on Mt. Baker in August of 2007 to monitor a number of glaciers. We were traversing from the Sholes Glacier to the Rainbow and paused for lunch in the Portals Pass. I sketched and noticed the strong shapes and shadows.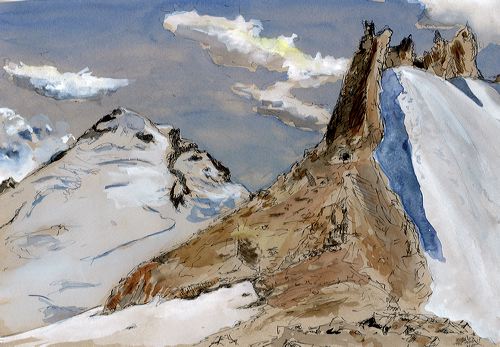 This year as I'm processing my North Cascades fieldwork, I began exploring the composition, looking at my sketch and photos as well. I did a small study of the Portals and liked the overall composition. It took me right back to sitting on the rocks sketching.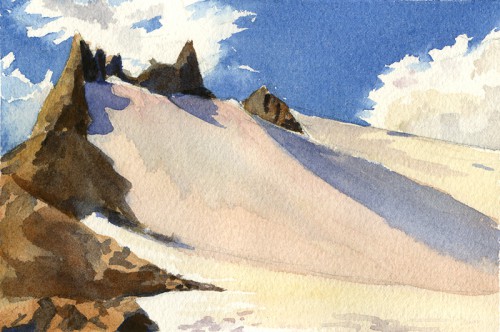 I decided to scale it up to a larger 23″ x 17″ watercolor on Arches coldpress paper. This is the first layer of paint. After a light sketch with 2H pencil, I painted the sky with a mix of cobalt blue, french ultramarine, and cerulean blue as well as some quinacridone rose and yellow ochre for the warms. Once that dried, I blocked in the large shapes of the rocks with yellow ochre and quinacridone burnt orange.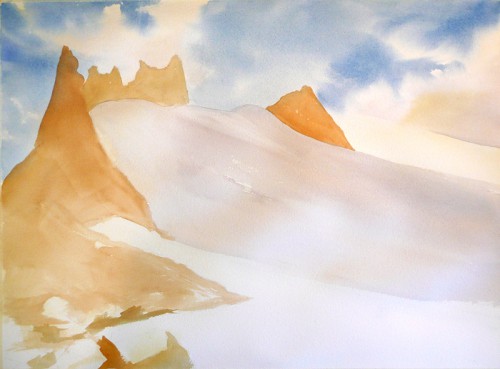 WIth this second layer, I added texture and form to the rocks, working with lunar earth paint mixed with some cool blues. I also highlighted the snow in the background yellow against the cloud and added some crevasses.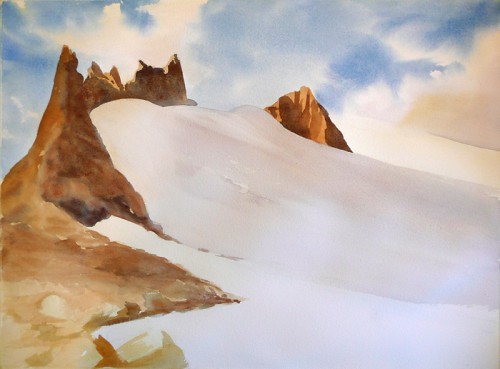 This is the final finished piece after I added the darks with blues and purples.