I rode my bike over to Bainbridge Island today (with the help of the ferry) to teach an ink and watercolor field sketching workshop with Bainbridge Arts and Crafts Gallery. We went down to water to sit in the shade and sketch and this is a value study I did with my chopstick, paint brush, and ink on a dusty blue Canson Mi-Teinte paper.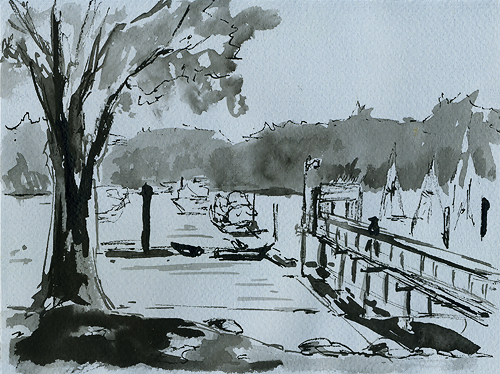 A note on the paper- field sketching presents a number of challenges including changing scenes (Terry in my workshop today exclaimed, "My boat just went away!"), changing light, and variable weather. I enjoy the Canson toned papers (as well as some Fabriano) because they dry quickly, unify the page, and can contribute to the mood of a scene. I often add brights with white gouache. Favorite paper colors of mine to sketch on are blues, tans, and greys such as cream, sky blue, azure, and pearl.
I started using chopsticks and found objects as drawing tools regularly in 2004 and 2005 when I was painting around the world with my Watson Fellowship. Initially I had a set of various nibs that I could use with dips pens. On my way to China from French Polynesia, however, I was stopped in airport security for my suspect materials. I was pulled aside and my drawing box dissected. Finding my tin of nibs, Security informed me that these were weapons and they'd have to confiscate them. I tried to argue otherwise, but to no avail. In China I looked up and down art stores and stationary shops and couldn't find any nibs. So after dinner one evening, I took a chopstick home, sharpened it, and it's been in my paint box ever since.