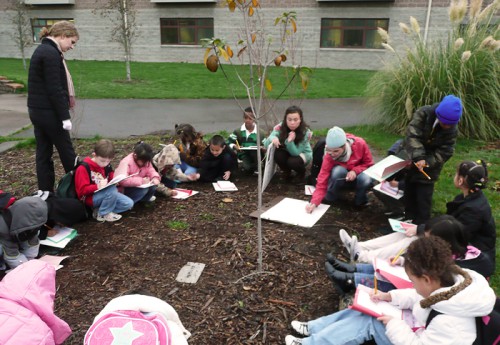 Last week and the previous week, I had the pleasure of teaching Nature Journaling and tools for observations to students of Cooper Elementary School in West Seattle. Cooper Elementary is a special place, unfortunately slated to close this next year due to budget cuts. Hopefully the community can turn this around! (Visit here to learn more.) In addition to having an incredibly diverse school population with many African and East Asian immigrants, and a strong autistic program, the school is also conducting an "Earth Project" to develop respect and stewardship for the environment. This is where I came in, working with the Nature Consortium. I gave two presentations to the students on my work and travels as an Expeditionary Artist and then met with eleven classes to share tools for observation including gesture drawing, contour sketching, and leaf rubbings.
Each classroom is also steward of a young native-to-Washington tree and we took time to observe and sketch their trees outdoors. In addition, we made a few measurements such as tree hight, girth, air temperature, and soil temperature. Hopefully later this year I'll have the opportunity to return and continue the observations! All in all, it was great fun to connect with young kids and see their enthusiasm for art and science.  Thank you to everyone at Cooper Elementary and to the Nature Consortium for making it possible. 
In other news, my partner Darin and I are just settling into our new apartment and work spaces! Moving was exhausting, but now with the holidays, we can hopefully catch our breaths and rest. Tomorrow I head to the Methow Valley with our families for some fun in the snow.
Best wishes for the holidays!