What brings you "ikigai"?
I listened today to a TED talk by Dan Buettner on how to live to 100 years old and took time to reflect on my art and lifestyle choices. Buettner and his team have studied communities around the world whose elders live to record setting ages with vigor, and this talk features nine habits that are common across borders. The concept of ikigai in Japanese culture particularly caught my attention as I was sketching in my studio. Ikigai is believing that your life is worth living. It's your subjective sense of well-being, your sense of purpose what gets you up and going in the morning… Everyone has the potential for ikigai.
When I was applying for the Watson Fellowship while in college, I was advised to choose a project for which I'd still get out of bed for even when I was feeling sick, tired, and lonely. The answer for me was easy — sketching and painting. And so developed my project for which I spent 12.5 months traveling around the world, "Ties to the Land, exploring remote regions through art" (learn more).
Many things bring me satisfaction, but encountering the world with a sketchbook particularly delights me and leads to rich experiences and relationships. It brings me ikigai. Where do you find ikigai?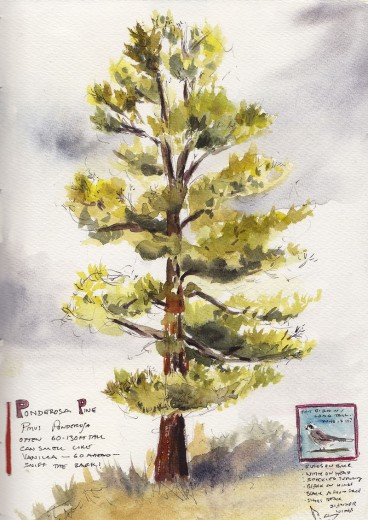 On that note, with springtime here, I'm taking more time to field sketch and warm up my skills in preparation for my summer High Latitudes expedition. I made these sketches today just using my extremely portable pocket watercolor kit and brush pen.